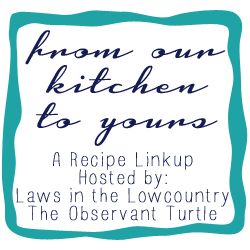 I am thrilled to be linking up with Charlotte and Whitney to share some of our favorite recipes!
This week, inspired by my family's tailgate this weekend, I wanted to share with y'all my favorite Buffalo Chicken Dip. This stuff is seriously amazing, and freakishly easy. It is beyond perfect for sporting events, tailgates, or even just a snack.
Preheat oven to 350º.
Mix softened cream cheese with ranch dressing and buffalo sauce, and layer on bottom of 8"x8" baking dish.
Layer chicken on top, and mix with cream cheese mixture.
Sprinkle shredded cheese on top and bake until melted.
Let cool for 5 minutes, and serve warm.
My favorite things to dip in this are Special K Multi Grain Crackers! Other family favorites? Fritos, and tortilla chips!
What is your favorite tailgate recipe?
More importantly, go link up with
Charlotte
and
Whitney
to share!