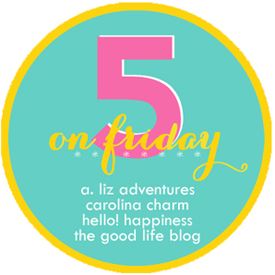 SO many things have made me happy this week!
|| one ||
I have been on a kick of calling my friends who live super far away on my way home from work. I always forget that a 40 minute commute is the perfect amount of time to make a phone call and catch up on life. They make me wish that I could live in multiple place at once so I wouldn't have to go so long without catching up!
|| two ||
We celebrated my Dad's birthday at Red Robin! It had just opened at our mall, and we were so excited to try it out! Neither one of my parents had ever experienced the deliciousness of endless steak fries and yummy burgers, so that was surely a treat. We topped off the night with cupcakes from Crumbs!
|| three ||
I have the next 2 weekends off.
What?
I work
retail
and I have
two
weekends surrounding
Black
COLORFUL
Friday FREE! I have a jam packed Saturday catching up with friends, and I plan on getting a head start on holiday planning on Sunday. I don't even know what to do with myself with so much free time!
|| four ||
We got a new foster pup this week!
Meet Olivia the Basset Hound.
I think a more appropriate name is Penelope, but a name change isn't really possible at this point. She is a little stinky, but her face just melts my heart.
|| five ||
This marks Monograms & Margarita's 100th Post!
Almost missed it, but noticed it this morning as I was typing this baby up!
What are YOU loving this Friday!?
Link up with
April
& friends to share!